Hello all! Lisa here and today I'm sharing a sweet wish for a Happy Birthday! Don't you just love this big cupcake from the Hey Cupcake stamp set?? I decided the Signature Polka Dot Cover Plate would make the perfect backdrop for this one.... and then I decided I wanted to create some borders so I cut four... a white one for the base, and then one in purple, turquoise and green. I made sure to save (almost) all of the little dots from each cut in separate piles. Then I attached the white panel to a white 5 1/2 x 4 1/4" base and then proceeded to create my border in the pattern I chose. I used the Glue It pen and put a small dot of glue in each of the holes I wanted to fill... about one row at a time.. and then used my fine tweezers to place the dots I had saved from the other cuts into place until I had the width I wanted. Fun right? And it didn't take me much time at all. I saved my extra dots for future use (as well as the extra panels)!
I stamped, cut and colored the cupcake wrapper and cherry. I added some Nuvo Drop sprinkles to the frosting and Glossy Accents to my cherry (that I colored purple to match making it more of a black cherry... which are so yummy!)
I cut the sentiment strip and then placed it in my Misti in the bottom right corner. I was able to place a rectangular magnet bar at each end and placed my sentiment where I wanted it and it fit perfectly! I didn't even have to stamp it more than once, however, placing it in the Misti made positioning it onto the label so much easier and gave me confidence that if I didn't get a good impression the first time all I had to do was make sure it was butted up to that corner and stamp again.
Finally I added a few sequins in matching colors and it was done!
Thanks so much for stopping and I hope you enjoyed your visit! Come again soon for some more A Jillian Vance Design inspiration!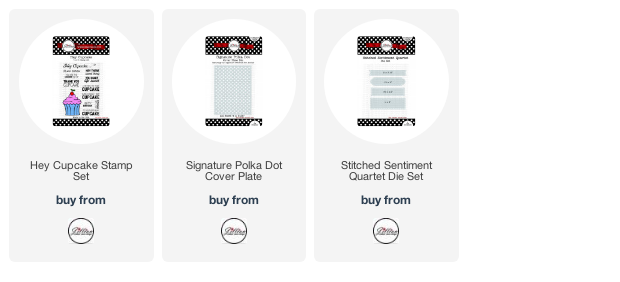 Follow
A Jillian Vance Design
on: