Hello!
Rosemary
here with a simple card that I made using the new Tweet Bird Cage die set, as well as the New Nest stamp set.
I had wanted to create a card using the bird cage die from the Tweet Bird Cage set. Jillian designed the bird cage so it could work with the new mini slimline dies, the slimline dies and as you can see it also works with the standard A2 card sized backdrop dies. Love the versatility! Since I made a mini slim last week I decided to just go with a A2 size card. I die cut the bird cage from silver metallic cardstock and then four more times from white cardstock. I layered everything together to form a sturdy bird cage. Then it was time to create my little birds. A friend of mine had a cockatiel named Larry Bird (yes... that was his name!) who recently did not make it through surgery to remove a cancerous tumor. Larry was over 20 years old so the surgery was risky to begin with. She has been heartbroken ever since and recently had started searching for breeders. The other day she told me that she found a breeder that she made a good connection with and showed me a photo of the three cockatiels that the breeder is currently hand raising. My friend is set to get her cockatiel at the end of this month. The birds are have a gray breast, yellow head and mottled gray/white wings and tail. That is where I got the color scheme for my birds from. After trying my best to recreate the look of the cockatiels I adhered them to the bird cage and then added the sentiment. I found some patterned paper that I thought looked nice with the birds, die cut that with the rectangle backdrop die, adhered it to my light yellow card base and then adhered the frame. I plan on giving her this card once she has her new cockatiel.
A Jillian Vance Design products used: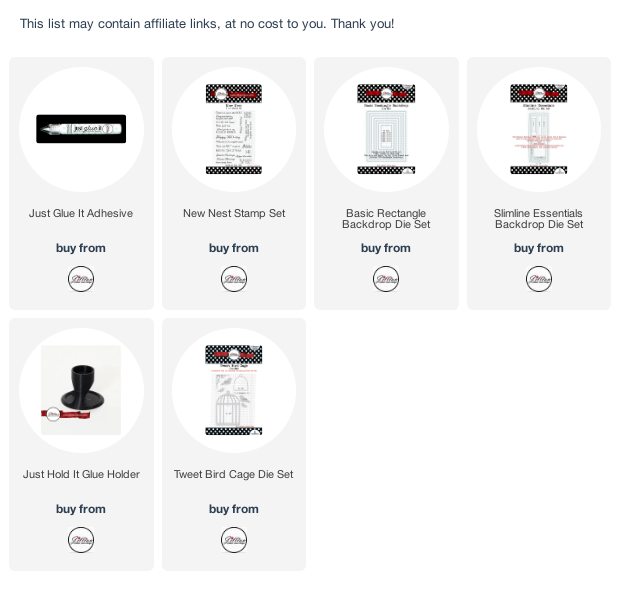 Thanks for stopping by and have a lovely day!