Welcome back! Today I've got this one using mostly dies except for the small "Just a Note" sentiment at the bottom. The flower and ladybug are from the Delightful Daisy Jr Die set. I just love the huge daisy in the set. I cut the flower twice from white so I could layer it into a double flower. I think dimension adds so much to a card. I layered some very thin foam tape in between the two flowers. Next the circles for the center were cut and layered and I cut two of the leaves.
I cut the large Hello die twice from white card stock and once from the green and stacked them on top of each other. I decided before I placed it onto my card that it needed a bit of an outline between the pink plaid and green sentiment so I cut one more in white and attached that directly to the plaid base and then offset my stacked green sentiment just a little to create an outline.
Finally three lady bugs and my little sentiment stamp to finish it off!
That's it for me today! Hope you enjoyed your stop and you'll come again soon for more A Jillian Vance Design inspiration!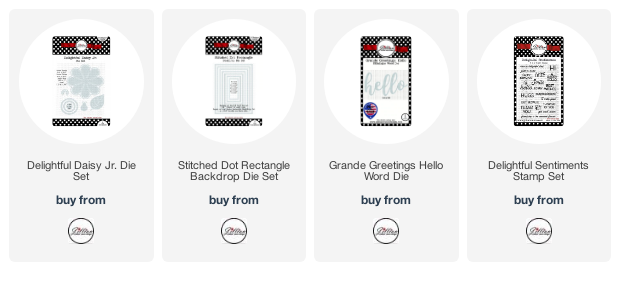 Follow
A Jillian Vance Design
on: