Happy Friday!!
Today, I'm swinging in to share a fun slimline card with you, using the new slimline dies! :) I'm only using a couple of the new dies, but be sure to check out all of them in the
AJVD
shop! ;)
Fun, yeah?!...I used the new Slimline Essentials Backdrop die to make card and background. I started with using the smaller rectangle of the dies (to give me a base to start making my diagonal stripes) and then chose three shades of colored cardstock and a gold foiled cardstock. I used all the smaller sentiment strips in the set with each of the cardstocks, except for the gold foiled cardstock (that one I only chose to use the smallest strip for). Once having all my die cut pieces, I started to assemble my card. Though, before adhering anything I placed things on first to be sure of how I wanted the colors and sizes to alternate. ;) After, having things where I wanted I began to adhere things down, one piece at a time. To give things a nice 'clean finished look' I used the same smaller rectangle die again with my striped panel. (I lined things up with to match with the first base panel I made.) Lastly, I used the largest rectangle die for my base card and then adhered my striped panel on top, using foam tape. To finish things off, I used the new Slimline Rectangle Window and Words Cover Plate dies for the 'hello' using white cardstock. That's it. Simple, right?!...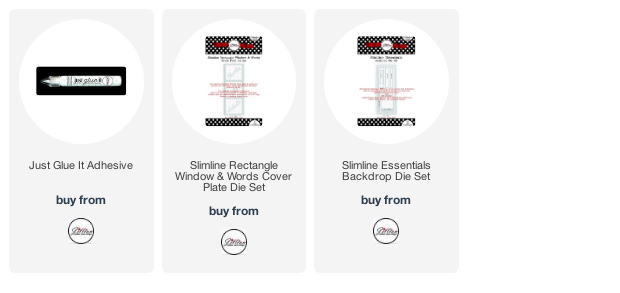 Thanks so much for stopping by!
Enjoy your day!