Hey y'all!
Shelly
, here.
Happy Friday!!
I'm swinging in to share a few cards using some of the new release goodies!
Check out each day for new creations by the AJVD Design Team!
Also each day return to this blog and enter to win a $25 Gift Card to the AJVD Webstore.
Use the Rafflecopter Widget to enter and you must comment on each daily blog post from September 30th to October 4th. Then at 8am Saturday morning, we will announce the winner and you can begin to shop the release! You must comment everyday to qualify.
Then on Saturday World Cardmaking Day, we will have another $25 Gift Card to give away too!
All products shown this week are available to purchase Saturday October 5th at 8 am. EST.
Please enjoy checking out our new release HERE
There is Free Shipping with any order of $25 or more until Oct 7th!
Without further ado, here are my cards...
I started with a simple card. I used the new Horizontal Pinstripe cover plate and then added on a gold glitter die cut tree using the tree die from the Sweet Gingerbread Add On set. Then lastly added on a sentiment from the Merry KISSmas stamp set and the used the 'banner' from the Vintage Frame Backdrop die set. Easy peasy, right?!...
How about a shaker card?!...I thought I'd have some fun with the Vintage Frame Backdrop die set. I simple used the smaller frame to make my shaker. Which I used some red, gold, and pearl sequins and even added a few little clear jewels in the mix. After having my shaker made, I added it to my card base and then added on Santa. I used the Headline Type Alphabet dies to spell 'Santa' I used red glitter cardstock along with two layers of white cardstock underneath it. I also added a strip on black cardstock, thinking of it as Santa's belt. ;) Fun, yeah?!...
Lastly, a fun and simple gingerbread card. I used the new Knit Stitch cover plate for my background. Then used the Cozy Cottage Birdhouse and Sweet Gingerbread Add On die sets for my house and gingerbread man. I decided for my gingerbread man that I'd just draw on a face and buttons. Then for my 'snow' on the house I added some clear shimmer to it (sadly you can't see it, but it's there) and then added some light pink jewels for 'Christmas lights'. Sweet, yeah?!...
Giveaway details using Rafflecopter.
You must comment on the blog post EACH day from Monday, September 30th to Friday, October 4th, 2019. Additional entries for Liking
AJVD on Facebook
and Following
AJVD on Instagram
.
A winner will be chosen and a $25 credit added to their AJVD webstore account. All criteria must be followed.
Thanks so much for stopping by!
Enjoy your day!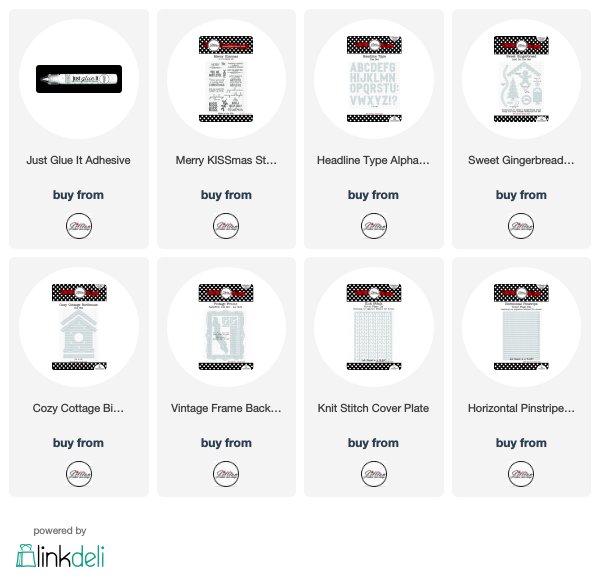 Follow
A Jillian Vance Design
on: