Good morning!
Ardyth
here, with a bright floral card. I'm already tired of looking out my windows at the cold, white world (only about 70 days to go!). I decided to heat things up with some warm tulips.
I'm going to call this my summer rainbow. Yellows through oranges to reds, pinks and purples (with a touch of greenery) feel like warm summer days to me and they are the perfect pick-me-up to the post-Christmas winter blahs.
I used the tulip and leaf/stem die from Watering Can Die Set to create some stencils, and blended these vibrant inks all over a panel. Here are some tips for a project like this:
Consider the size of the area you are blending. If it's smaller, an ink dauber gives you more control. If larger, a blending tool makes things go much quicker!
Create a separate stencil for each colour you're going to use. This reduces colour-contamination.
If you use a full-sticky stencil (such as full-sticky Post it Notes or Masking paper), you will have less problem with the stencil moving, but you will need to be careful - do not rip the 'fiddly' bits when you cut the stencils and when you position them on your panel and lift them up.
If you do not wait between colours, they may not dry. Your stencil may pick up the wet ink and create smudges when you lay it down for the next flower. I know this one for a fact! lol!
As you use your stencil, it will get wet with ink. This weakens the stencil (and eventually it may bleed through), so use care.
As your stencil weakens, the 'fiddly' areas may not stick down as well. Blend your ink in the direction of the stencil (ie. take care not to lift those areas as you blend).
Once I created the floral panel, I cut it out using the largest Stitched Dot Rectangle die. Then I created another white panel to go on top. I cut out a crescent, using the curve in the Elegant Stitched Dot Edges and popped it up. My sentiment is from Showers of Blessings - I carefully masked the tiny flower for a cleaner look.

A Jillian Vance Design Products Used: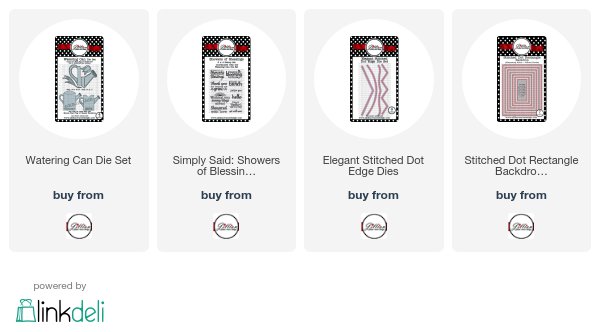 Other Products Used:
White Cardstock, Gray Cardstock
Versafine Onyx ink
Confetti Sequins
Follow
A Jillian Vance Design
here: