Merry Christmas everyone!!
Lisa Hoel
here with a pretty, somewhat Christmas-y birthday card for my grandma. I thought it was especially appropriate for today since Christmas really is just one big birthday party for Jesus. ;-)
I finally got to play around with the new
INKboss INKpression Plates
. Wow, they are fun! I need to do a lot more experimenting with them. They are an easy way to get a letter press effect and you can get creative with the inking of them. Here is what Jillian has to say about them:
"
These plates work more like a letter press only with more versatility as you can add various color and gradients with your daubers right on the Metal FX piece as your inking it. The great feature about this concept is that inking can now become an art for stampers and even for the beginner by simply applying one color to the Metal FX Plate. Use as many as 10 different colors of ink and made beautiful backgrounds that you can't really do with a rubber or polymer stamp. Most inks in the industry are water based which washes right off with only water and ready for a next application instantly. Because the plates are thinner than the regular dies, we are able to get more detail such as a polymer stamp and maybe even more depending on the design. Of course inking isn't the only feature, you can also Emboss, Pencil Rubbing, and even simply using it as a standalone piece of artwork. I have even embossed the Metal FX piece to a white piece of paper with no ink and just started coloring the image following the impression after running it through the machine."
I used Distress Oxide Ink pads in my experiments and they worked very well. I used the pad directly on the plate to ink it. 'Smooshing' and slightly twisting the pad instead of swiping it across the plate seems to give me the best ink coverage. More playtime is definitely in order! ;-) For this card, I used the
Vintage Floral Flourish
plate and Worn Lipstick Oxide Ink to create the background behind the flowers. I really like how the design is slightly embossed too.
I lightly misted white cardstock with Tattered Rose, Antique Linen Distress Spray Stains and Biscotti Perfect Pearls Mist to use as the base for the
Poinsettia
flowers. Pink and white pearl buttons add a fun accent at the bottom.
I hope that you all have a joyous and peaceful day today. Merry Christmas!
AJVD Products Used: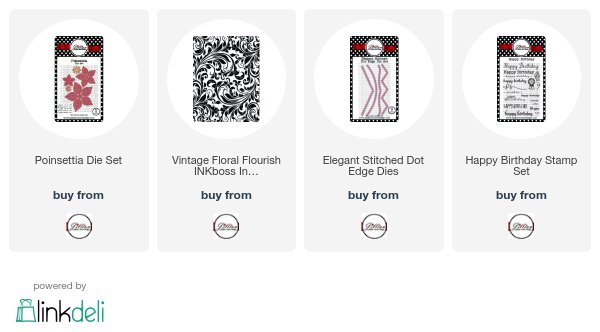 Other Products Used:
Perfect Pearls Mist - Biscotti; Distress Spray Stains - Tattered Rose, Antique Linen; Distress Oxide Ink - Worn Lipstick, cardstock, buttons, patterned paper
Follow
A Jillian Vance Design
here: