Good morning! Ardyth here with a Flurry of simple thank you notes! Now that Christmas is over, it's time to write all those thank you notes for the wonderful gifts we received! A quick design that is easy to vary is just what I needed. This one is just simple masking and stamping on a one-layer card.
I start by creating my curved masks with a piece of 2" wide Post-it tape and the curved edge from Elegant Stitched Dot Edges. I laid the two pieces on my card front and stamped a number of different snowflakes in different, frosty-coloured inks. To make the shape clear, make sure to stamp along the edges of your curved masks, but inside the open area, stamp as randomly as you like - even the white space looks pretty. I finished by randomly dabbing Star Dust Stickles over the 'blizzard' for some sparkle. The punny sentiments in this set are fun and flurry-appropriate!
You can easily change the look by changing the colours you use, or the width of the open area, or the direction of your masked area.
A Jillian Vance Design products used: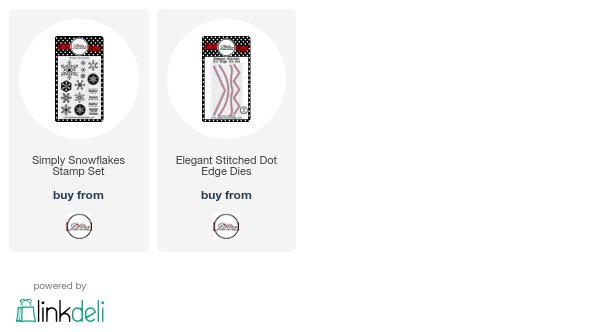 Other Products Used:
White Cardstock
Coloured inks
2" Post it Tape
Star Dust Stickles
Follow
A Jillian Vance Design
here: